Highlights from a study exploring the experiences of employed Indigenous caregivers

February 28, 2023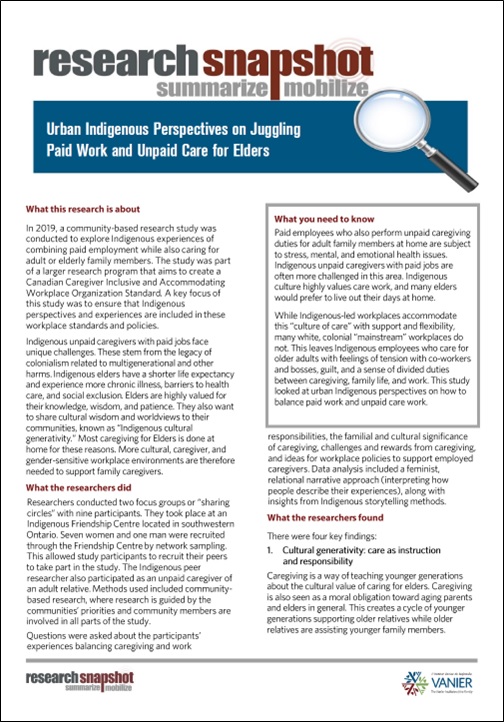 Paid employees who also perform unpaid caregiving duties for adult family members at home are subject to stress, mental, and emotional health issues. Indigenous unpaid caregivers with paid jobs are often more challenged in this area. Indigenous culture highly values care work, and many elders would prefer to live out their days at home. While Indigenous-led workplaces accommodate this "culture of care" with support and flexibility, many white, colonial "mainstream" workplaces do not. This leaves Indigenous employees who care for older adults with feelings of tension with co-workers and bosses, guilt, and a sense of divided duties between caregiving, family life, and work.
In this community-based study, researchers conducted focus groups or "sharing circles" to explore the thoughts and experiences of employed Indigenous caregivers and identify key themes.
This research builds on our growing understanding of the Family Work lens of the Vanier Institute's Family Diversities and Wellbeing Framework.
Jewell, E., Doucet, A., Falk, J., & Hilston, K. (2022). "Looking after our own is what we do": Urban Ontario Indigenous perspectives on juggling paid work and unpaid care work for adult family members. Wellbeing, Space and Society, 3. https://doi.org/10.1016/j.wss.2022.100102