Research on Aging, Policies and Practice has published new data on working caregivers.

November 30, 2022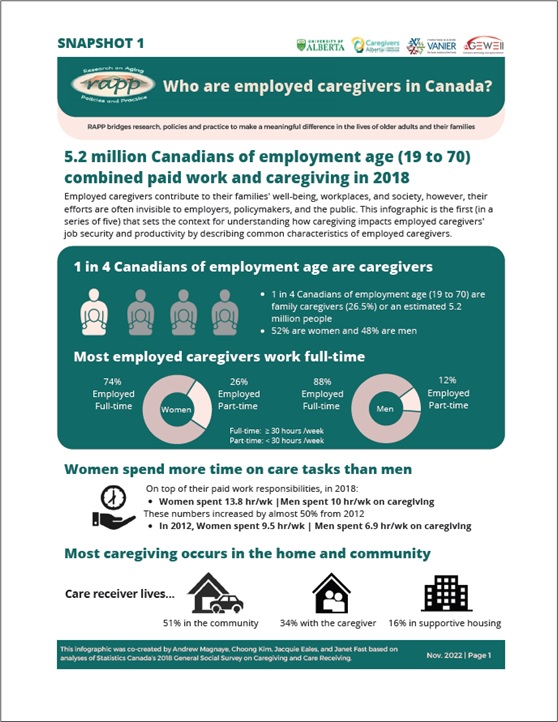 Employed caregivers contribute to their families' wellbeing, workplaces, and society, yet their efforts are often invisible to employers, policymakers, and the public.
To increase awareness of their contributions, experiences, and challenges, a series of infographics is being released by Research on Aging, Policies and Practice (RAPP), a research centre based at the University of Alberta that engages in cross-sectoral partnerships to support the wellbeing of older adults and family/friend caregivers.
Co-created by Andrew Magnaye, Choong Kim, Jacquie Eales, and Janet Fast, this infographic provides updates to key indicators on working caregivers based on analyses of Statistics Canada's 2018 General Social Survey on Caregiving and Care Receiving.
The first infographic, Who are employed caregivers in Canada?, provides an updated profile of the 5.2 million Canadians aged 19 to 70 who manage work and caregiving responsibilities at the same time.
"The data show that this balancing act is a very common experience among families in Canada, representing more than one in four working-aged Canadians," said Jacquie Eales, Research Manager at RAPP. "It also reveals that women continue to spend more time on care tasks than men, and that most care is provided in the home and community, by caregivers who also mostly work full-time jobs."