Summary of a study on protecting children from food insecurity
October 16, 2023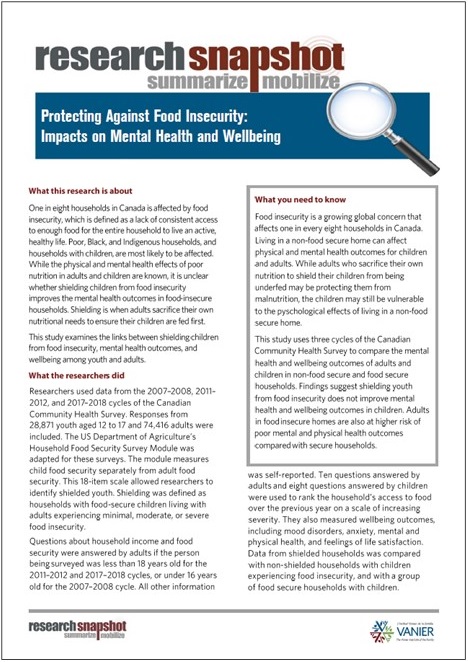 Food insecurity is a growing global concern that affects one in every eight households in Canada. Living in a non-food secure home can affect physical and mental health outcomes for children and adults. Adults often sacrifice their own nutrition to shield their children from being underfed. While this may protect children from malnutrition, it may also have an impact on mental health and wellbeing. These children may therefore be vulnerable to the psychological effects of living in a non-food secure home.
Researchers conducted a study using three cycles of the Canadian Community Health Survey to compare the mental health and wellbeing outcomes of adults and children in non-food secure and food secure households.
This research builds on our growing understanding of the Material Wellbeing component of the Vanier Institute's Family Diversities and Wellbeing Framework.
Ovenell, M., Azevedo Da Silva, M., & Elgar, F. J. (2022). Shielding children from food insecurity and its association with mental health and well‑being in Canadian households, Canadian Journal of Public Health, 113, 250–259. https://doi.org/10.17269/s41997-021-00597-2