A summary of a recent study on the impact of parent–child separations on First Nations families
November 22, 2022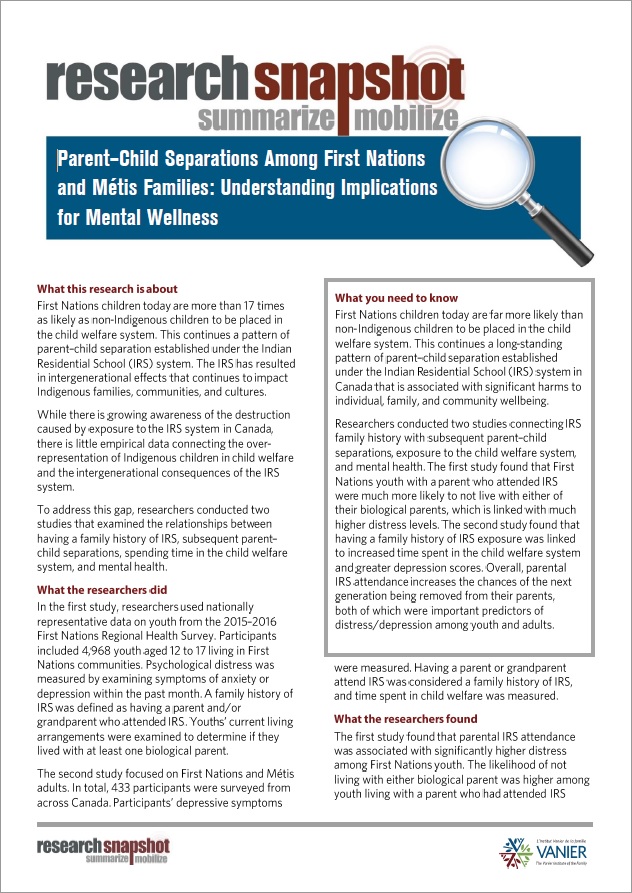 First Nations children today are far more likely than non-Indigenous children to be placed in the child welfare system. This continues a long-standing pattern of parent–child separation established under the Indian Residential School (IRS) system in Canada that is associated with significant harms to individual, family, and community wellbeing.
A study was conducted to address the knowledge gap on the relationship between the over-representation of Indigenous children in child welfare and the intergenerational consequences of the IRS system.
Overall, the authors found that parental IRS attendance increases the chances of the next generation being removed from their parents, both of which were important predictors of distress/depression among youth and adults.
This research builds on our growing understanding of the Family Structure lens of the Vanier Institute's Family Diversities and Wellbeing Framework.
McQuaid, R. J., Schwartz, F. D., Blackstock, C., Matheson, K., Anisman, H., and Bombay, A. (2022). Parent–child separations and mental health among First Nations and Métis Peoples in Canada: Links to intergenerational residential school attendance. International Journal of Environmental Research and Public Health (19), 6877. https://doi.org/10.3390/ijerph19116877