Findings from a study on caregiving experiences of newcomer families in Canada
January 17, 2023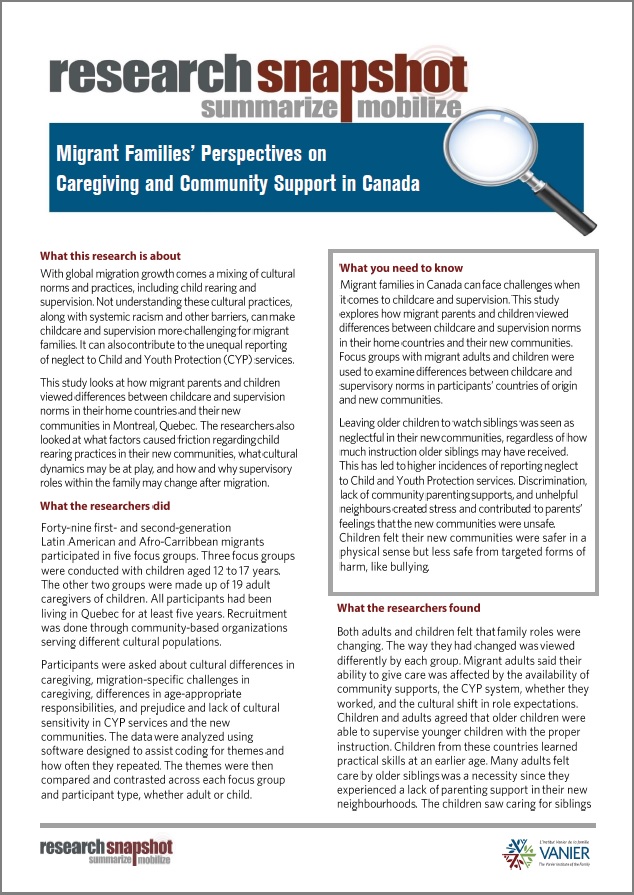 With global migration growth comes a mixing of cultural norms and practices, including child rearing and supervision. Not understanding these cultural practices, along with systemic racism and other barriers, can make childcare and supervision more challenging for migrant families. It can also contribute to the unequal reporting of neglect to Child and Youth Protection (CYP) services.
This Research Snapshot highlights findings from a study that explored how migrant parents and children viewed differences between childcare and supervision norms in their home countries and their new communities in Montreal, Quebec. The researchers also looked at what factors caused friction regarding child rearing practices in their new communities, what cultural dynamics may be at play, and how and why supervisory roles within the family may change after migration.
This research builds on our growing understanding of the Family Work lens of the Vanier Institute's Family Diversities and Wellbeing Framework.
Klassen, C., Gonzalez, E., Sullivan, R., & Ruiz-Casares, M. (2022). "I'm just asking you to keep an ear out": parents' and children's perspectives on caregiving and community support in the context of migration to Canada. Journal of Ethnic and Migration Studies, 48(11), 2762-2780. https://doi.org/10.1080/1369183X.2019.1707647