The Vanier Institute of the Family seeks to understand the diversity of families and the complexity of family life. Each year, the Institute acknowledges those who have made a significant contribution to our understanding through their work, their research, their service or support to families in Canada. Annual awards are voted on annually to honour individuals or organizations that have made a contribution whether a study or a story, leadership or action, ideas or innovation.
The Mirabelli-Glossop Award for Distinguished Contribution is presented annually in recognition of exceptional and sustained contributions to the work of the Vanier Institute of the Family. To be recognized, contributions must be made in-kind and serve to enhance the Institute's commitment to better understanding families and family life.
---
2019
Statistics Canada
Statistics Canada received the Vanier Institute of the Family's 2019 Mirabelli-Glossop Award for their significant and diverse contributions to family research, working directly with the Vanier Institute as a trusted partner to generate, analyze and disseminate quality research and data on families and family life in Canada. These contributions were the combined efforts of leaders and researchers from multiple departments within the organization and, as such, the award was presented to Statistics Canada as a whole.
---
2018
Dr. Barb Neis and Dr. Christina Murray
Dr. Barb Neis is recognized for her extraordinary leadership as project director of the On the Move Partnership, and Dr. Christina Murray is congratulated for her work on planning and managing the Families, Mobility, and Work Symposium in May 2018. Through their respective contributions, Dr. Neis and Dr. Murray have played a vital role in the development of a rigorous and robust knowledge base to develop evidence-based policies, programs and practices for those who employ and/or support "families on the move."
---
2017
Dr. Kim Hollihan and Dr. Lorna Martin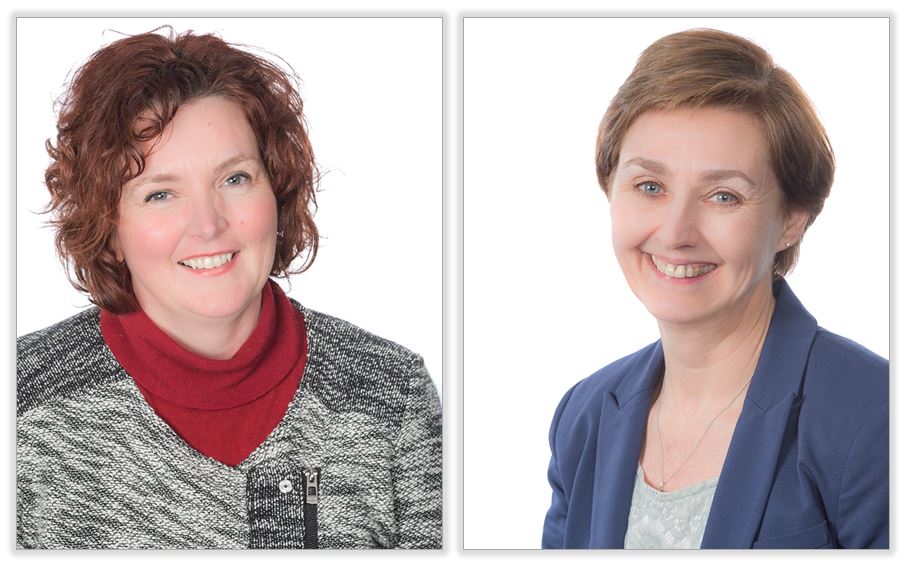 Dr. Kim Hollihan, Deputy CEO of CCPA, and Dr. Lorna Martin, President Emerita of CCPA, received the Vanier Institute's 2017 Mirabelli-Glossop Award for outstanding leadership in the development of School Counsellors Working with Military and Veteran Families, a resource that provides information on the important roles and unique lifestyles of military and Veteran families that enrich schools, communities and workplaces.
Dr. Hollihan and Dr. Martin were integral to the development and promotion of this important resource, which was written and produced in partnership with the Canadian Military and Veteran Families Leadership Circle. The resource aims to assist school personnel in increasing their military literacy, and enabling increased support and inclusion of children and youth of military and Veteran families in the social, academic and athletic lives of schools across Canada.
---
2015
Carole Tremblay and Wanda Turnbull-Lavoie
Carole Tremblay and Wanda Turnbull-Lavoie received the distinguished Mirabelli-Glossop Award in 2015 for their outstanding contribution to the success of the Families in Canada Conference 2015. Leading up to the conference, Carole and Wanda joined the Vanier Institute team to support the efforts to ensure that the conference was an inspiring and meaningful event for all. With years of experience from their work at the Canadian Human Rights Commission, Carole and Wanda knew exactly how to attend to all the important and essential details of the conference. Along with their joyful and "can-do" attitudes, Carole and Wanda quickly became colleagues and friends – and will forever be members – of the Vanier team.
---
2013
Colonel Russell Mann
Colonel Russell Mann was awarded this distinction in 2013 for his outstanding contributions and commitment to the Military Families in Canada initiative. The Military Families in Canada initiative is a collaborative partnership between the Military Family Services Program and the Vanier Institute of the Family. This initiative serves to increase the availability and accessibility of services and supports to military families across Canada and to educate and inform the greater community about military life.
"The Vanier Institute of the Family is delighted to be honouring Colonel Mann with this award for his distinguished contribution to the Military Families in Canada initiative. The Institute has a long history with military families, who are valued members of Canadian society, and is proud to be working with Colonel Mann and his team on this important initiative."
– Nora Spinks, CEO, Vanier Institute of the Family
Colonel R.B. (Russ) Mann is the Director of Quality of Life/Military Family Services for the Canadian Armed Forces. Upon graduating from the Royal Military College in Kingston in 1983, Colonel Mann began his service with the Royal Canadian Air Force, where he coordinated administration and logistics for tactical helicopter operations. He deployed on international operations twice as officer commanding the National Support Element with the Multinational Force and Observers in Egypt and with the United Nations Observer Group in Central America. He had the privilege of serving as a Commanding Officer of the 1 Canadian Air Division/Canadian NORAD Region Headquarters. As 3 Wing Administration Officer Bagotville, Quebec, he coordinated administrative and financial services to Canadian Armed Forces personnel and their families. In Joint Operations, Colonel Mann supported domestic and international relief operations. With his American colleagues, he served through 9/11 as a Movements Officer and Watch Chief with the Strategic Mobility Division of Pacific Command in Honolulu, Hawaii. With NATO, Colonel Mann served as Executive Assistant to the first Canadian Deputy Commander of Joint Force Command Naples, Italy.
As a Director of Canadian Forces Morale and Welfare Services (CFMWS), Colonel Mann revived a Quality of Life capacity and merged it with Military Family Services and Dependant Education Management to meet the needs of today's Canadian military family. Although services remain important, engagement with the Canadian community and with provincial governments are essential capabilities of the team that he now leads.
---
2012
Dr. Janet Fast and Dr. Donna Lero
Dr. Janet Fast and Dr. Donna Lero were awarded this distinction in 2012 for their outstanding contributions as lead researchers on the Caregiving & Work project, in partnership with the Institute. Through a series of interviews, round table discussions and a national survey of senior HR executives, the Caregiving & Work project works with employers and managers across private, public and non-profit/voluntary sectors to identify best practices within their workplace and to support further innovations that will benefit both employers and employed caregivers.
"The Vanier Institute of the Family is delighted to be honouring these two women with such a distinction. With an aging population, a growing number of employees are providing some form of care to family, neighbours or friends. It is essential that employers are equipped with the knowledge, tools and resources to best support employed caregivers."
– Nora Spinks, CEO, Vanier Institute of the Family
Dr. Janet Fast is a professor in the Department of Human Ecology at the University of Alberta. Her participation in the Caregiving & Work project reflects her deep commitment to better understanding the varied and hidden costs associated with adult caregiving. Dr. Fast is currently co-leading an international, multidisciplinary team investigating the juxtaposition of costs and contributions of adults with chronic illness and disability.
Dr. Donna Lero is the inaugural holder of the Jarislowsky Chair in Families and Work, and leads the research agenda on Workplace Policies and Family Supports at the Centre for Families, Work and Well-Being at the University of Guelph, where she also teaches courses in child development and family-related social policy. Dr. Lero's leadership in the field of child care, work and family dates back to 1988, when she served as Director of the Canadian National Child Care Study.