Emily Glossop-Nicholson discusses themes from her book Our Family Is Grateful.
January 14, 2022
Gaby Novoa
Following the loss of her family home to a tornado that tore through the small community of Dunrobin, Ontario, in 2018, Emily Glossop-Nicholson shares her family's story of being held, housed and helped by community. Her illustrated children's book, Our Family Is Grateful, to be launched on January 21, 2022, is her family's expression of thanks to their family, friends and neighbours and the professionals and complete strangers who helped the Glossop-Nicholson family following the wreckage. Their story speaks to families across the country and around the world who have experienced uncertainty, displacement and upheaval due to the impacts of the climate crisis, and to how accepting support strengthens a family's ability to adapt.
In conversation with Gaby Novoa of the Vanier Institute, Emily spoke about rebuilding their house into a home and about community interdependence, symbolized by the animal kingdom in her book, and shared her views on the conventional definitions of resiliency.
What motivated you to share your story?
After the tornado, I started a blog with a primary goal of keeping our extended family in the loop as to what was going on, where we were, where we were living. Most importantly, it was an opportunity for us to express our thanks to all of those who were helping us along the way. The request on behalf of the Vanier Institute to write about our story in the form of a children's book resonated with our family. We recognized that it was not only an opportunity to work together as a family on a very cool project, but that it would also allow us to thank all those who had supported us in a tangible way. (In my posts, I always said that those two words "thank you" were just not enough.) Most importantly, it was an opportunity for us to provide children/families/communities (either before facing challenges in life or currently facing challenges) with a relatable story to show them that they won't be – or are not – alone. It's a reminder that there will always be "the helpers" (as Mister Rogers called them) who will surround them with the love and support they need (even if they don't even know what kind of support is required).
While I've discovered that I really enjoy the writing process, it was challenging at times, I won't lie. It brought back memories and it was as though we were going through the experience again and reliving it.
This book has been almost two years in the making. While I did most of the writing, this was a family project. There is one line in the book that the children hold as their own, and so it's pretty neat for them to see themselves within it. My children are only 12 years old now, but my hope is that years from now they might share this story with their own families.
After losing your house to the tornado, and then being closely involved with the hands-on experience of rebuilding, can you speak to what "house" and "home" mean to you and your family?
That question goes right to my heart. There is such a significant difference in my world now when it comes to those two words, "house" and "home," and there is a line in the book that states, "We rebuilt the house that is now our home." There was a lot of thought that went into that line and it's because of that significant difference that I hold within those two words. Our old house, which the kids now call the "Broken House," was our home. It was filled with memories and cherished items, like our kids' first drawings and some of my favourite clothing from when they were infants that I was keeping to make into a quilt. There were heirlooms – items that have been passed down through generations and sat in our house. Our home had artwork that family members have made, and they held very special places on our walls. Todd, my husband, and I had things that we earned and worked really hard for, like trophies, medals and awards. When the tornado took a lot of that away, what was left was really just a shell. It was just a few walls. It became just a building – just a house at that point.
I have to admit that it did take some time for this new house, that I'm standing in right now, to actually feel like a home. It's only just lately that it started to feel like a home again. When almost everything is brand-new – like your furniture, your clothes, your jewellery, your books, your artwork and even down to the cutlery in your kitchen – it just doesn't feel like your own. I think that's why taking part in building the house and putting our own blood (literally – I had a few injuries), sweat and tears into it really did help with that whole sense of it being our own and our home, again. We, our family and our friends, worked so hard. Our fireplace and our mantle were built by our family and some of our really good friends. The kids can look at that every single day and they can point out the stones that they installed. I get to look at this whole house and see all the different projects that we were involved in. We know that we were involved in every step and every decision that brought this new beautiful home to us.
It is not just the building itself – it's the people within it. It's the family within it. It's the people who join us and celebrate with us, which has been hard, because we moved in just as COVID-19 was hitting. We have yet to have all of the friends and family who helped us over to see the finished home.
We were fortunate to be able to save and restore a few of our original artworks, so they're pretty special. One of them has glass shards all through it, but it's still beautiful in its own way. People have asked me how I could put that back up and it's because I know where it stood before. It has an important place, and I can't replace it. So, it's going to be up there, and it's going to have those little cuts in it, and that's okay because that's part of our journey.
I think, in the end, it's nice to have a house to live in, but it's what and who's within the walls that really does make it a home.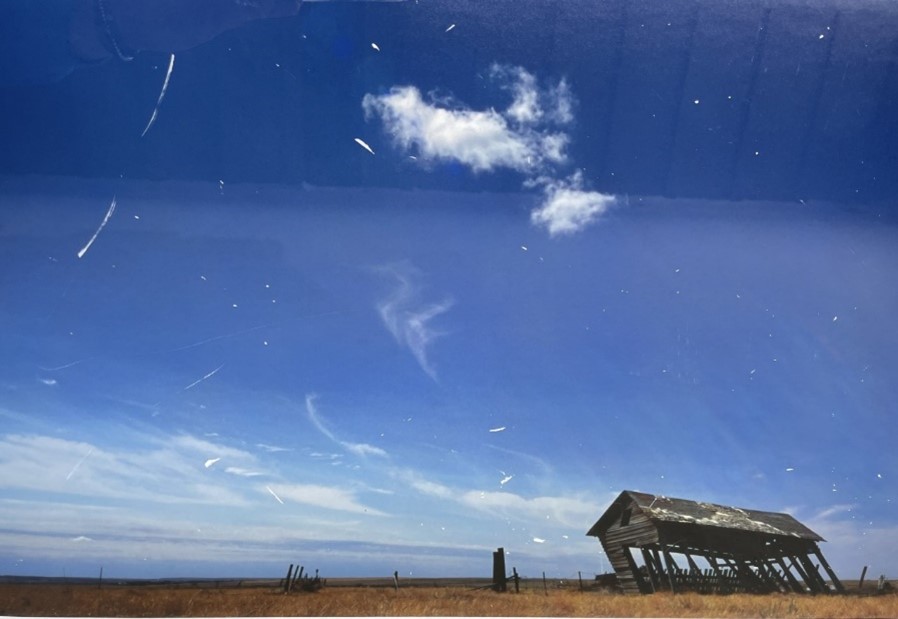 There's a conventional notion that resilience means bouncing back. What does resilience mean to you?
I've been asked this a few times and I've thought about it for a long time, because people have said, "You know, Emily, you're so resilient." And sometimes I really question that. Sometimes I feel resilient and sometimes I don't. I've also put a lot of thought into it as a parent: what are the things that I can do to support resiliency in my children? After thinking about it for a while and researching it, I would actually challenge the conventional definition of resilience. I believe that our experiences in life, whether positive or negative, shape us. Following those experiences, we are fundamentally changed. I don't believe that we bounce back to our original shape or return to pre-crisis status. That's not to say that the shape we become isn't better or worse. It's a more experienced shape with many lessons learned.
I also don't think that there needs to be a time limit on resiliency. Conventional definitions seem to have this "bouncing back quickly" idea. I don't think there is a time frame. I think everybody goes through their journey of being resilient and learning to be resilient during challenging times at their own pace. I think you have to have that ultimate goal of happiness, comfort and progress in mind, but it might take time. You might have moments where you're speeding through the journey, and then there might be moments where you're just taking little baby steps, and that's okay.
I believe that our experiences in life, whether positive or negative, shape us. Following those experiences, we are fundamentally changed. I don't believe that we bounce back to our original shape or return to pre-crisis status. That's not to say that the shape we become isn't better or worse. It's a more experienced shape with many lessons learned.
I think your ability to be resilient and your ability to manage challenging times is directly affected and/or impacted by the environment that you live and work in. It's impacted by those who are surrounding you and supporting you, and by the lessons that you've learned in previous experiences, as well as by the choices you make.
I see resiliency as an individual journey. It looks different for everyone. Even if you're experiencing the same challenge or the same crisis at the same time, everyone is going to experience it differently. And we must respect, acknowledge and understand that. Every journey is going to have ups and downs. I think it comes down to your choices in and around how you react. In the end, it's a journey that provides us with many lessons and also opportunities that we take with us as we face our next challenge. Because there's always going to be another one.
That word "resiliency" also seems to be tied to "strength." There's the idea that if you're resilient, that means you're a strong person, and I don't think that's fair. I really don't. You can be resilient and have weak moments. You can also be a very strong person and, in moments, not feel resilient. I just don't equate those two things – resiliency and strength – and I find they unfortunately get tied together quite often.
You've learned a lot about managing uncertainty and adversity. What advice would you offer to others experiencing similar situations?
This is a lesson we learned, and one that wasn't easy to learn. Along with maintaining that positive attitude and seeking out the opportunities that come when you're facing challenges, I think the greatest lesson that we learned through this whole journey is that it's okay to ask for help. We all need help. So, acknowledge that. Accept help graciously. And recognize that, in time, you'll be able to turn around and help someone else. It comes down to kindness, which is a two-way street. There needs to be someone giving and there also needs to be someone there to receive it. In the end, I think both parties win: the giver and the receiver. I think we have to hold tight to both of those roles throughout our journey in life and give when we can give and accept when it's needed.
This was a hard lesson to learn. Todd and I have a history of helping others and always being there for others. We had to learn to turn the table and be the ones asking for help and, even at times, not even knowing what we needed to ask for, but needing it. We learned about accepting it right from that first moment when it showed up at the end of our street. Our friends just showed up. I was at the house right after the tornado, and I didn't know where to go. They took me back to my family and then took all of us back to their home. They knew we needed somewhere to sit, somewhere to eat and somewhere to sleep. Friends brought food. Clothes. A teddy bear for the kids. That's also a line in the book, even "a teddy bear to keep." It's true. All those lines are true. They come from our story, even though they're written like a general story of a family's experience. All those lines have a strong tie to our personal story.
Why do you think your story resonates with so many families? Why was it important for you to share your story?
That's a tough one, and that's why I speak with tears so close to the surface right now. There is the heartbreaking and obvious connection to climate disasters. The other day, my children were having a hard time understanding how the tornado in Kentucky could be worse than the one that hit us. We had to tell them, it's so much worse. It's blocks and blocks and blocks. It's whole communities. We were very fortunate here in Dunrobin because there were no lives lost. We don't really know how that happened. There were some very significant injuries, but there was just a whole lot of things that happened that Friday afternoon that made it so that nobody lost their life. There's no question that there's a huge impact today, here in Canada and for families all around the world, when it comes to the impacts of environmental disasters and climate change. We see it with the extreme heat, drought, fire and flooding that Canadians have been experiencing lately.
On a general level, we are all experiencing very difficult times within the pandemic. I know that families are experiencing loss, and that includes loss of time with loved ones, loss of employment, loss of predictability. We're experiencing isolation and fear. Those three things – loss, unpredictability and fear – were very, very present for our family and for our community following the tornado.
I've asked myself that same question – why is our story important? Is our story important to share? It's understanding that we're not just talking about a tornado or a fire or a flood. We're just talking about challenges that any one of us will face in our lives. And, unfortunately, we will all face challenges in our lives. The important thing is knowing that there are always going to be people who come and surround you, support you and lift you up. I think the other important thing is that if you see someone else going through a challenging time, take that opportunity to be that person to surround, to support and to lift someone up.
How will the book be distributed?
A limited number of books have been printed for the purpose of educating children and supporting individuals, families and communities in similar situations, and will be gifted to the community as an expression of our thanks. However, if there is sufficient demand for additional copies, requests can be made by contacting the Vanier Institute at info@vanierinstitute.ca, and books will be provided at cost.
---
A note from Emily: Huge gratitude and thanks go to the Vanier Institute and the Alan Mirabelli Fund for Creativity and Innovation for allowing me to work on a project with a goal of helping other families and individuals across Canada through this creative and innovative type of medium. I want to express my sincere gratitude to the Vanier Institute for this opportunity and to the Alan Mirabelli fund for supporting this vision and seeing it come to light.
Gaby Novoa is responsible for communications and publications at the Vanier Institute of the Family.
This interview was edited for clarity and brevity.