A new fact sheet on marriage and common-law unions in Canada
May 30, 2023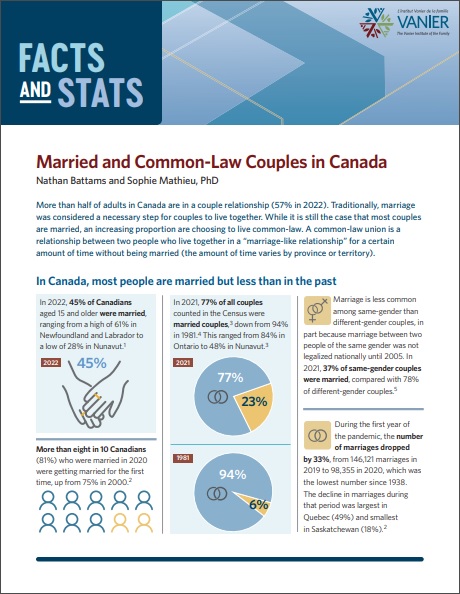 While the proportion of Canadians living in couples has remained fairly stable across generations, the nature of these relationships has changed. Recent data show that the decades-long shift in the conjugal status of couples away from marriage toward common-law unions continues to this day, with Canada now having the highest share living common-law among the G7.
Historically, marriage held a major role in family life and society generally, but its prevalence has been declining. In 2021, 77% of all couples counted in the Census were married couples, down from 94% in 1981. Quebec has contributed greatly to this change, since it has a large population and common-law unions are far more frequent among couples.
Data also show that the average age at marriage has been rising in Canada since the early 1970s. This is partly related to the growing popularity of common-law unions but also to the desire of younger generations to first pursue other aspirations, such as obtaining a post-secondary education or developing their careers.
To explore this topic further, the Vanier Institute of the Family has created a new fact sheet, Married and Common-Law Couples in Canada.