Edward Ng, PhD
September 3, 2020
COVID-19 has had a major impact on the labour market, work–life and family finances in Canada. Amid the public health measures and economic lockdown, many organizations and businesses across the country rapidly laid off employees and/or transitioned employees to teleworking. As a result, the unemployment rate increased from 8% to 14% between March and May 2020, reaching the highest figure recorded since comparable data became available in 1976.1 A survey conducted April 10–12, 2020 by Leger, the Association for Canadians Studies (ACS) and the Vanier Institute found that more than one-third of Canadians aged 18 and older were financially impacted due to COVID-19 (i.e. lost their job temporarily or permanently, or experienced pay or income losses).2
Within many families, this context of uncertainty in the labour market can have a major impact on aspirations, such as buying a home, having a child3 or pursuing post-secondary education. Retirement has also been affected, with pre-retirees and retirees alike adapting and reacting to the evolving context to support family. Retired people are in a unique situation, however, when it comes to the financial impact of COVID-19, as they are not in the labour force, and those who are seniors have access to other income supports. As their capacity to provide financial support to family is shaped by their own finances, understanding their unique realities and experiences will help shed light on this aspect of COVID-19 impacts on families in Canada.
Retirement plans shaped by family finances and available supports
While a growing share of Canadians are working past their 50s and beyond the traditional retirement age of 65, the retired population has grown overall as population aging has continued. According to Statistics Canada, the average age at retirement for all workers in Canada was 64.3 in 2019. That said, many older Canadians continue to work well into their 60s and beyond. In 2017, nearly one-third of Canadians aged 60 and older said that they worked (or wanted to work) in the previous year, half (49%) of whom did so "out of necessity."4
Prior to COVID-19, many Canadians expressed concern about their financial preparedness for retirement. According to the 2019 Canadian Financial Capability Survey, 69% of pre-retired Canadians are preparing financially for retirement, on their own or through a workplace pension plan.5 But more than one-third of surveyed Canadians aged 55 and older reported are concerned they don't have enough savings (37%) and/or that they will be able to cover health care costs as they age (34%).6
Retirees who are seniors have access to income support through government pension payments, available to all Canadians at age 65 who have lived in the country for at least 10 years. On top of privately arranged retirement schemes and/or personal retirement savings or investments, public income programs for seniors, such as the Old Age Security (OAS) program, the Guaranteed Income Supplement (GIS) and the Canada/Quebec Pension Plan, provide senior retirees in Canada with fixed and relatively stable income sources that can help protect them against economic instability, such as the economic shock resulting from the COVID-19 pandemic.
In May 2020, in response to the financial stress placed on retirees and seniors, the federal government announced additional financial support for seniors as a one-time payment of $500 for individuals who receive both the OAS and the GIS to offset additional costs from COVID-19.7
Retiree investments impacted, but overall family finances less affected
A survey conducted by the Leger, ACS and the Vanier Institute in early May provided one of the first glimpses into the pandemic's financial impact on retirees.8 It showed that only 1 in 5 retirees9 reported a decrease in income as a result of the COVID-19 crisis, compared with close to one half of pre-retirees (47%) (fig. 1).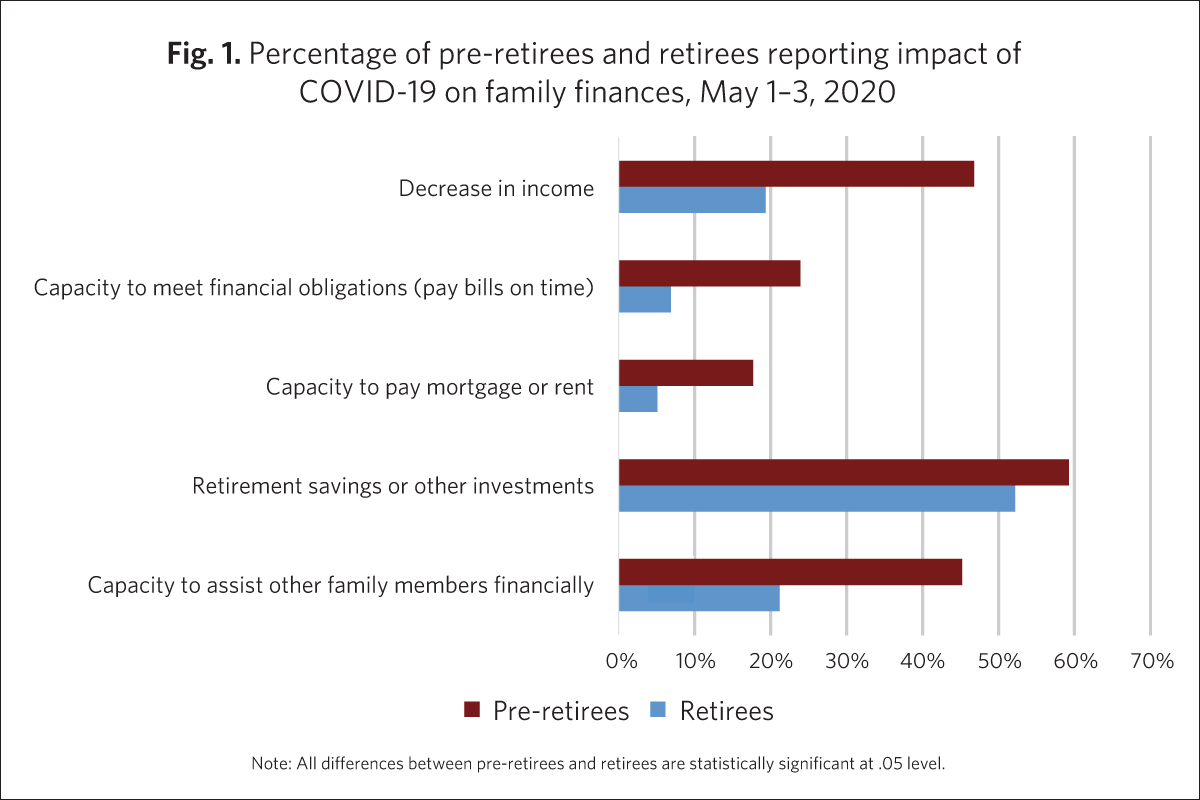 In fact, the polling data showed that some (7%) of retirees reported difficulty in their capacity to meet financial obligations, such as paying bills, compared with close to 1 in 4 pre-retirees (24%). Similarly, 1 in 20 (5%) retirees reported difficulty in paying mortgage or rent, compared with close to 1 in 5 pre-retirees (18%).
While retirees have access to public income support, many also have access to additional income support through savings or other investments. (In 2015, 50% of seniors in Canada reported receiving income from investments.)10 The COVID-19 outbreak resulted in financial market uncertainties and turbulences that added considerable stress on investors in general, and this is the area where retirees were most adversely affected. The polling data showed that more than half (52%) of retirees reported negative impact on their retirement savings or other investments – though the impact was greater among pre-retirees (59%).
Retirees assisting other family members financially
Family can be viewed as a potential source of insurance against abrupt financial shocks. Since some retirees were less exposed to the pandemic-related economic shocks, they have been a potential source of financial support for their children or younger family members, who may have been more adversely affected. A study on the impact of severe economic recessions found that, during the 2008 financial crisis, 28% of households in the United States reported getting financial help from family and friends.11
How did COVID-19 affect retirees' ability to assist other family members in Canada? When asked, about 1 in 5 retirees (21%) reported that the pandemic had affected their ability to assist other family members financially. Among the pre-retirees, who were more exposed to the economic shock produced by COVID-19, the rate was 45%. Retirees who received income assistance from their children or grandchildren (some of whom could be pre-retirees) may therefore have also been indirectly affected in this way.
Retirement timing is being affected for one-third of surveyed Canadians
As families continue to navigate the impacts of COVID-19, data show that many workers are adapting their retirement plans. A recent US survey found that 39% of American workers are changing their retirement timing,12 primarily for financial reasons (e.g. they had to use some of their savings, some of their investments may have lost value during the pandemic, there is less certainty in general about how much money they will need in retirement).
A separate survey from Canada suggests a similar trend may be taking place in Canada, with one-third (33%) of adults who plan to retire saying that they will retire later than planned as a result of COVID-19.13 However, 8% of respondents said they would retire earlier than originally planned, possibly due to wanting to avoid continued uncertainty and turbulence in the labour market (if they are financially able to do so).
While it is too early to draw a clear picture of the diverse ways COVID-19 has impacted retirement in Canada, early data shows that retirees are less financially impacted on average, as pre-retirees seem to have been more exposed to the economic impacts. Nonetheless, surveys show that the increased uncertainty is having an impact on people's retirement planning, and further research will be important to understanding how this is affecting family finances and well-being more generally.
Edward Ng, PhD, Vanier Institute on secondment from Statistics Canada
---
Notes
Statistics Canada, "Labour Force Survey, May 2020," The Daily (Ottawa: Statistics Canada, 2020). According to the Labour Force Survey, from February to April of 2020, 5.5 million Canadian workers were affected by the COVID-19 economic shutdown, which included a drop in employment of 3 million and a COVID-19-related increase in absences from work of 2.5 million. Link: https://bit.ly/3j99UfM.
Ana Fostik and Jennifer Kaddatz, "Family Finances and Mental Health During the COVID‑19 Pandemic" (May 26, 2020).
See Ana Fostik, "Uncertainty and Postponement: Pandemic Impact on Fertility in Canada," The Vanier Institute of the Family (June 30, 2020).
Myriam Hazel, "Reasons for Working at 60 and Beyond," Labour Statistics at a Glance, Statistics Canada catalogue no. 71-222-X (December 14, 2018). Link: https://bit.ly/2SJqjxW.
Financial Consumer Agency of Canada, Canadians and their Money: Key Findings from the 2019 Canadian Financial Capability Survey (November 2019). Link: https://bit.ly/34ypopw.
RBC, 2017 RBC Financial Independence in Retirement Poll (February 14, 2017). Link: https://bit.ly/2Yyyxe6.
Justin Trudeau, Prime Minister of Canada, "Prime Minister Announces Additional Support for Canadian Seniors," Government of Canada (May 12, 2020). Link: https://bit.ly/308AUp2.
The survey, conducted by the Vanier Institute of the Family, the Association for Canadian Studies and Leger on May 1–3, 2020, included approximately 1,500 individuals aged 18 and older, interviewed using computer-assisted web-interviewing technology in a web-based survey. Using data from the 2016 Census, results were weighted according to gender, age, mother tongue, region, education level and presence of children in the household in order to ensure a representative sample of the population. No margin of error can be associated with a non-probability sample (web panel in this case). However, for comparative purposes, a probability sample of 1,512 respondents would have a margin of error of ±2.52%, 19 times out of 20.
Retirees are defined as those aged 45 and above who reported being retired in the polling survey, when asked about their current occupation. Pre-retirees are other respondents in the same age group who reported an occupation other than homemaker or a student. Since there is no mandatory retirement age in Canada, among those aged 45 and more, the polling data showed that some 4% of those aged 65 and above were still working, while some 29% of the retirees in the same age group were in fact younger than 65.
Statistics Canada, "Income Sources and Taxes (16), Income Statistics (4) in Constant (2015) Dollars, Age (9), Sex (3) and Year (2) for the Population Aged 15 Years and Over in Private Households of Canada, Provinces and Territories, Census Metropolitan Areas and Census Agglomerations, 2006 Census – 20% Sample Data and 2016 Census – 100% Data," Data Tables, 2016 Census (September 12, 2017). Link: http://bit.ly/2i6MVUR.
National Research Council, "Assessing the Impact of Severe Economic Recession on the Elderly: Summary of a Workshop" (Washington, DC: The National Academies Press, 2011). Link: https://bit.ly/2X8b9mU.
Edward Jones Canada, The Four Pillars of the New Retirement (June 25, 2020).
Ibid.