The Vanier Institute's Annual Report 2021–2022 is now available.
December 2, 2022
Marie Vaillancourt
Margo Hilbrecht, PhD
Access the Vanier Institute's Annual Report 2021–2022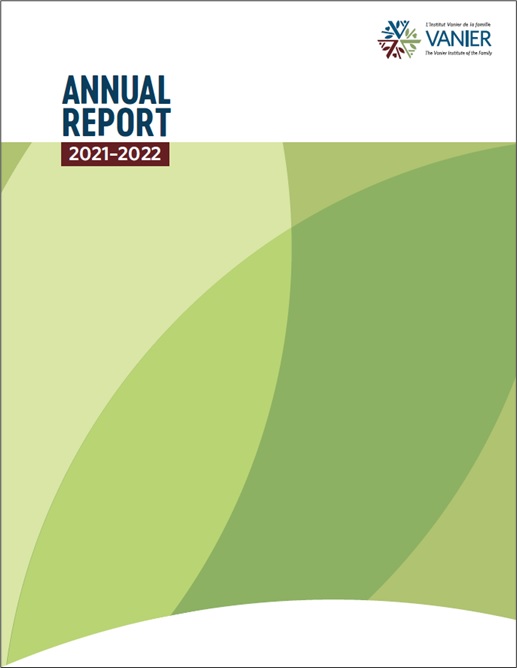 It has been 30 years since the Vanier Institute of the Family first published its definition of family, which was soon widely recognized for its inclusiveness and continues to be regularly cited in family research. We are proud of this legacy, which is on our minds as we approach our 60th anniversary in 2025. Its functional approach—based on what families do rather than what they look like—helps people to have conversations rather than arguments over what constitutes a family, and remains central to our work.
An evidence-based understanding of families, in all their diversity and complexity, is the strongest foundation for effective and equitable decision-making to support family wellbeing. Over the past year, we have continued to build on this foundation by sharing research, creating resources, collaborating with others, and focusing our programs and activities as we approach several major milestones.
Getting data and information into the hands of people who use them
Throughout the year, we mobilized and activated knowledge through our projects and partnerships with stakeholders from across the country. Our COVID-19 IMPACTS surveys on family therapists and Veteran families, and of newcomer and refugee mothers, came to a close, with associated reports and follow-up webinars highlighting the experiences of families and those who supported them during the pandemic.
The Reimagining Care/Work Policies project has been in full swing, with a regularly growing collection of studies, reports, and presentations on childcare, parental leave, employment, and other issues related to work and family. Our project with the Families Matter Research Group is building capacity among family researchers to address topics important to the families of military, Veteran, and public safety personnel, such as mental health, post-traumatic stress, operational stress, and work–family conflict. We have continued to support initiatives such as MatchWork (funded by AGE-WELL) that are helping Canadians manage work, care, and family responsibilities.
Our growing library of articles, research summaries, and interviews has provided accessible research findings on wide-ranging topics, including divorce, parental benefits, incarcerated mothers, Indigenous doulas, caregiving, polyamorous families, fertility, and mobility. Our relationships with the media have always been central to our goal of increasing understanding of families in Canada, and we have continued to work with journalists to tell the stories behind the statistics.
We joined others to engage in conversation, shared experiences and understandings, and presented at a variety of events, such as at the UNDESA Expert Group Meeting on "Megatrends and Families."
Our projects and resources have been reinvigorated with a large amount of new data and information from our partners and collaborators. The first releases from the 2021 Census gave us new insights on households, demographic shifts, and more, including the world's first Census-based measurement of gender diversity. We have worked with Statistics Canada to support the dissemination of these new findings across our platforms and outreach.
Production was finalized on Families, Mobility, and Work, an edited compilation of articles and other knowledge products now available from Memorial University Press. This book—a capstone for the On the Move Partnership—highlights 10 years of novel research findings from this project and its affiliated researchers.
Congratulations to Barb Neis, PhD, and her team, who have made huge contributions to our understanding of the impacts of work-related mobility on families, communities, and employers. A decade of high-quality research and knowledge mobilization is no small feat, and we are thrilled to have supported this important work.
Growth and continuity at the Institute
It was a time of renewal at the Institute, with several new Team members joining us throughout the year. First among these was our Executive Director, Margo Hilbrecht, PhD, an award-winning family scholar with a background in families, work, and wellbeing. Martin Settle, CPA, CGA, came aboard next as Director, Corporate Services, and has strengthened the Institute with his many years of not-for-profit financial experience. Sophie Mathieu, PhD, now leads programs as Senior Program Specialist. With an extensive knowledge of work and family research and policy inside and outside Quebec, she is expanding our activities and reach to increase our impact.
These new faces join two long-standing Team members who celebrated milestone anniversaries this year: Nathan Battams, the Institute's Knowledge Mobilization Specialist, who joined us 10 years ago; and Administration and Office Manager Lucie Legault, who has been with the Institute for 40 years.
Our work was supported by the addition of two brilliant scholars who supported various projects. Kim de Laat, PhD, is a Mitacs postdoctoral fellow from the Department of Sociology at Brock University. With a background and interest in work and occupations, culture, gender and race, and social policy, her contributions to our development of a framework for family diversities have been invaluable. We were also joined by Alexander Parsan, a 2020 Dobson Loran Scholar and President of Enactus uOttawa, who supported a project on work–family policies among Canadian employers and a review of how family wellbeing is defined and measured throughout the world.
Roadmaps for future focus
Building on new momentum as we approach several major events, the Institute is guided by internal and external roadmaps.
Our programming and publications are now led by the Family Diversity and Wellbeing Framework, which serves as both a tool and roadmap for understanding family diversities, and for focusing the Institute's attention and resources. Developed by the Vanier Institute through consultation with academic and government policy partners, the framework is based on three intersecting lenses—Family Structure, Family Work, and Family Identity—all of which are directed at the ultimate goal of improving and supporting family wellbeing.
Another programming focus has been the Sustainable Development Goals (SDGs). The SDGs are at the heart of the 2030 Agenda for Sustainable Development, which was adopted by Canada and 192 other UN member states in 2015. The 17 goals are related to social, economic, and environmental dimensions of sustainable development, many of which are closely associated with family wellbeing.
Perhaps the most anticipated guiding light for the Institute, coming in 2024, is the 30th anniversary of the UN International Year of the Family (IYF+30). This event will recognize and celebrate the many achievements of those who have worked to build supportive and caring societies for families in Canada and around the world. The Vanier Institute participated in the original 1994 IYF and its associated events. We look forward to continued involvement in the upcoming 30th anniversary milestone through our knowledge-sharing programs and activities.
Families have evolved and changed over the last 30 years, but what they do has not. Likewise, the Vanier Institute has seen many changes as well, but our overall mission of increasing understanding of families and to support their wellbeing remains the same. We will embrace this continuity and this change as we continue on the road to our 60th anniversary in 2025.
Marie Vaillancourt is the Board Chair at the Vanier Institute of the Family.
Margo Hilbrecht, PhD, is Executive Director at the Vanier Institute of the Family.