A summary of a qualitative study on perinatal and childbirth experiences of Indigenous mothers.
May 11, 2022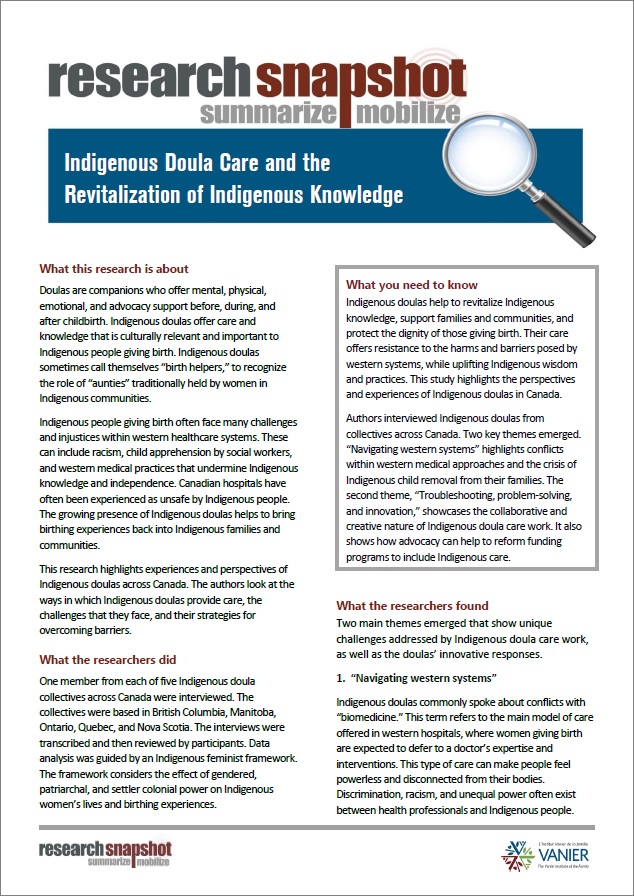 Indigenous doulas help to revitalize Indigenous knowledge, support families and communities, and protect the dignity of those giving birth. Their care offers resistance to the harms and barriers posed by western systems, while uplifting Indigenous wisdom and practices.
This study highlights the perspectives and experiences of Indigenous doulas in Canada.
One member from each of five Indigenous doula collectives across Canada was interviewed. Guided by an Indigenous feminist framework, data analysis of interview transcripts identified two key themes: "Navigating western systems" (i.e. conflicts within western medical approaches and the crisis of Indigenous child removal from their families) and "Troubleshooting, problem-solving, and innovation" (which highlighted the collaborative and creative nature of Indigenous doula care work).
This research builds on our growing understanding of the Family Identity component of the Vanier Institute's Family Diversities and Wellbeing Framework.
Study citation: Doenmez, C. F. T., Cidro, J., Sinclair, S., Hayward, A., Wodtke, L., & Nychuk, A. (2022). Heart work: Indigenous doulas responding to challenges of western systems and revitalizing Indigenous birthing care in Canada. BMC Pregnancy and Childbirth, 22(1), 41. https://doi.org/10.1186/s12884-021-04333-z