Summary of a study on homelessness among immigrant families
November 16, 2023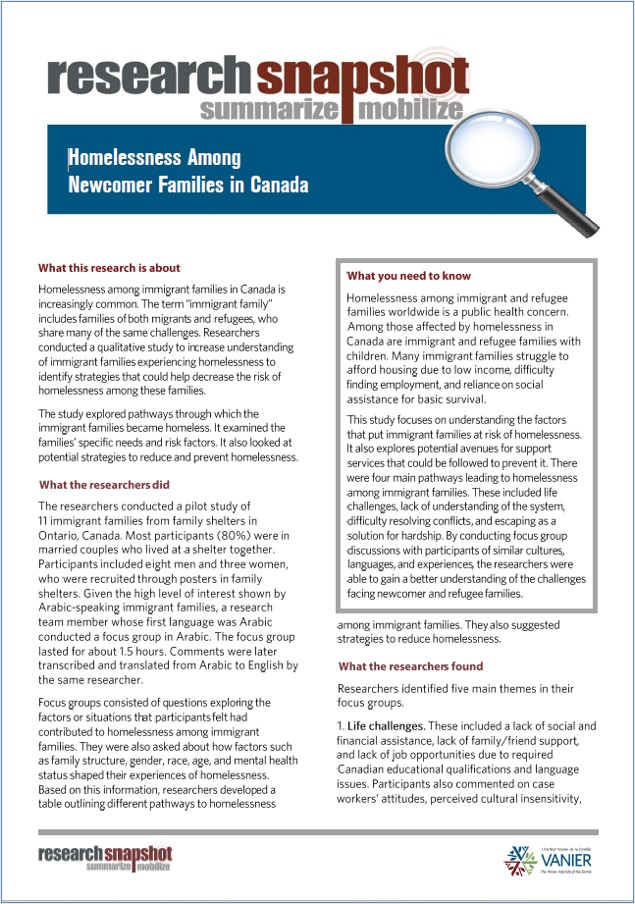 Homelessness among immigrant families in Canada is increasingly common. The term "immigrant family" includes families of both migrants and refugees, who share many of the same challenges.
Researchers conducted a qualitative study to increase understanding of immigrant families experiencing homelessness to identify strategies that could help decrease the risk of homelessness among these families. The study explored pathways through which the immigrant families became homeless. It examined the families' specific needs and risk factors. It also looked at potential strategies to reduce and prevent homelessness.
This research builds on our growing understanding of the Family Identity component of the Vanier Institute's Family Diversities and Wellbeing Framework.
Forchuk, C., Russell, G., Richardson, J., Perreault, C., Hassan, H., Lucyk, B., & Gyamfi, S. (2021). Family matters in Ontario: Understanding and addressing homelessness among newcomer families in Canada. Canadian Journal of Nursing Research, 54(1), 27-39. https://doi.org/10.1177/0844562121998206