Highlights from a study on the experiences of women in Calgary who live in affordable housing
August 18, 2022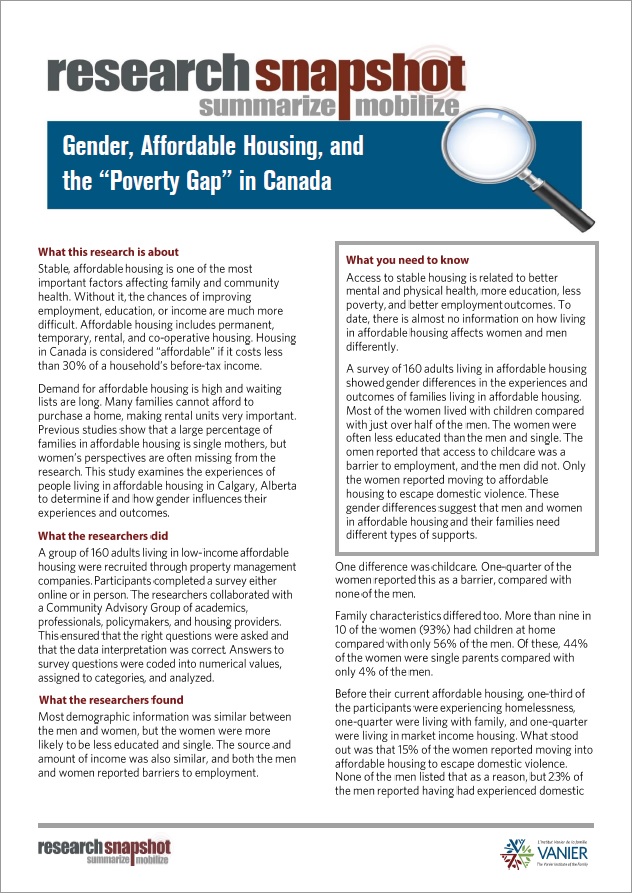 Access to stable housing is related to better mental and physical health, more education, less poverty, and better employment outcomes. To date, there is almost no information on how living in affordable housing affects women and men differently.
This study examines the experiences of women living in affordable housing in Calgary, Alberta to determine if and how gender influences their experiences and outcomes.
A survey of 160 adults living in affordable housing found gendered differences in the experiences and outcomes of families living in affordable housing. Most of the women lived with children, compared with just over half of the men. Surveyed women were often less educated than the men and were more likely to be single. Women reported a lack of access to childcare as a barrier to employment, while the men did not. Only women reported moving to affordable housing to escape domestic violence. The findings that women and men in affordable housing and their families would benefit from different types of supports.
This research builds on our growing understanding of the Family Structure lens of the Vanier Institute's Family Diversities and Wellbeing Framework.
Milaney, K., Bell, M., Ramage, K., Screpnechuck, C., & Petruik, C. (2021). Examining housing as a deterrent of health: Closing the "poverty gap" to improve outcomes for women in affordable housing. The Open Public Health Journal (15). dx.doi.org/10.2174/18749445-v15-e2202080