Nadine Badets
May 6, 2020
The COVID-19 pandemic restrictions have transformed family life in Canada. With the closure of schools, daycares, restaurants and many businesses, as well as major job losses and new work-from-home measures, many parents and children are spending a lot more time together.
So how do families feel about life after the pandemic? Six weeks of data from the Vanier Institute of the Family, the Association for Canadian Studies and Leger show that families with children are not ready to send them back to school this year, but parents are ready to go back to their workplaces after the pandemic, among other findings from this ongoing series of surveys.1
Fear of coronavirus greater among families caring for children
As of May 6, 2020, children and youth 19 years and younger represent a small portion of COVID-19 cases in Canada (5%).2 Nevertheless, almost 30% of adults living with children and youth under 18 are very afraid that someone in their immediate family will contract COVID-19, compared with 22% of people not living with children3 (fig. 1).
Even so, more than half of adults living with children (56%) said they would support a government policy that relaxes social (physical) distancing restrictions for everyone under 65, whereas 42% of people living without children said they would support this policy.
Most parents don't want children to attend summer school to catch up
Over 80% of parents are living with their children during the pandemic, and 7% are sharing custody of their children with a parent in a separate household. Six in 10 parents (60%) reported they are now talking to their children more often than before the lockdown. Parents of school-aged children are also navigating the education system with their children as newly instated teachers, tutors and homework helpers. Home schooling is challenging for many families,4 raising concerns about students falling behind.
Most provinces have not yet announced plans to reopen schools, whereas all three territories have confirmed they will keep schools closed until September. However, Quebec has pledged to reopen most elementary schools on May 11 and, as of April 29, 2020, Ontario and Nova Scotia have tentative opening dates closer to June, but their deadlines keep shifting.5 When surveyed, two-thirds (66%) of parents indicate that even if schools in Canada open before the end of June, they would prefer for their children to return to school in September, rather than attend school over the summer (July and/or August) to catch up for missed time.
More than half of parents are ready to return to work but don't want to use public transit
The COVID-19 pandemic has created enormous job losses across the country,6 and parents living with children who view the COVID-19 outbreak as a "major threat" to their jobs were more likely to report feeling sad and anxious or nervous, compared with people living without children.7
Of those still employed, people living with children were more likely to report satisfaction with the measures their employer put in place to fight COVID-19 (59%) than people without children (37%). This could be because they can work from home and care for their children given that daycares and schools are closed. About 55% of adults living with children reported they are now working from home (fig. 2). People living with children were also more likely to say they would be comfortable returning to their workplace once the COVID-19 restrictions are lifted (54%) than people without children (37%).
However, more than 60% of parents said they would not be comfortable riding public transit, even when COVID-19 restrictions start being relaxed, which could have implications for commuting once people return to their workplace (fig. 3). Adults living with children were more likely to say they would prefer to commute to work only when needed (39%) than people without children (27%).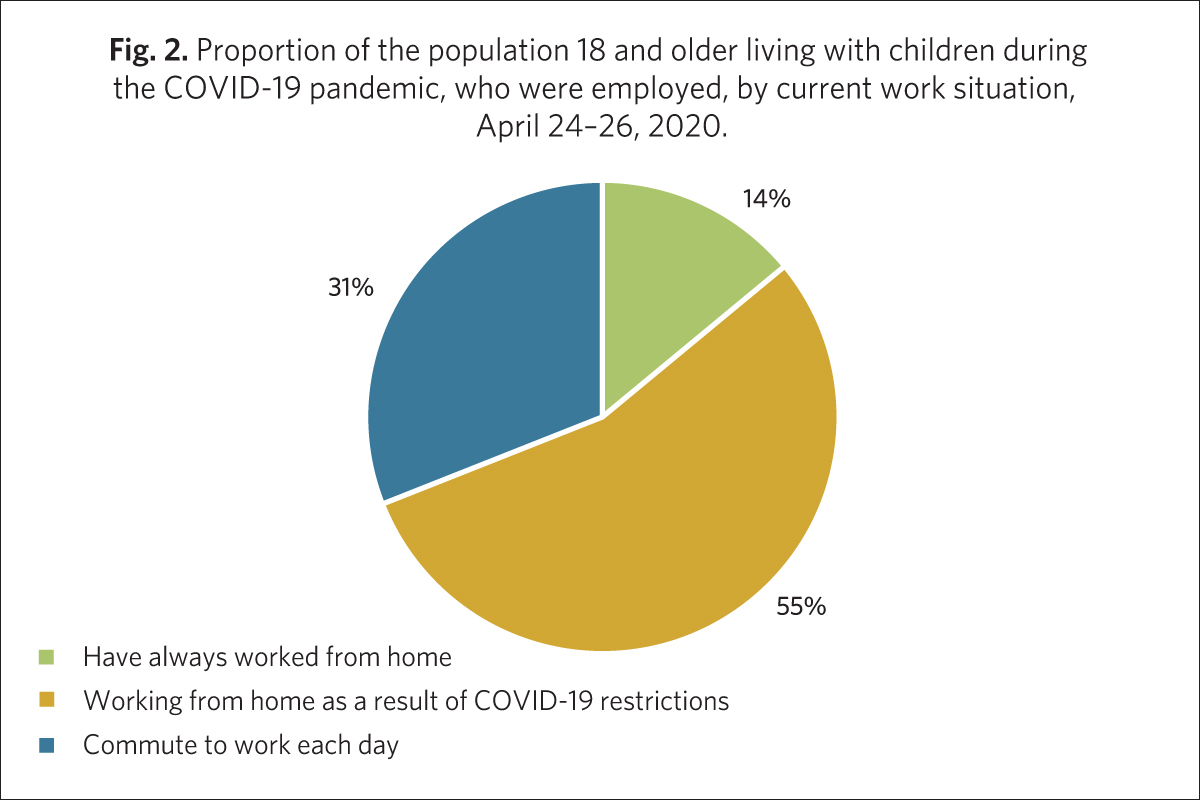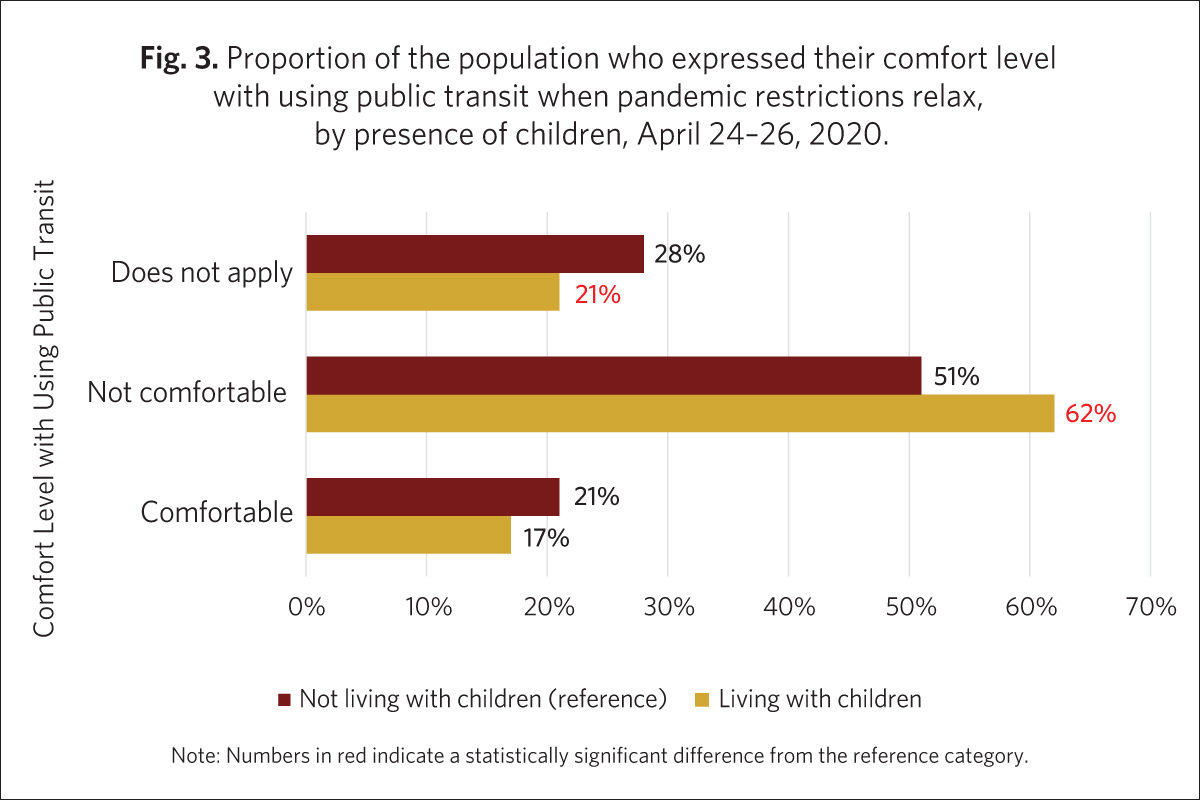 Parents abandoning vacation plans, most won't travel in 2020
In addition to expressing discomfort with commuting in public transit, parents are also not comfortable with travel. About 6 in 10 (59%) adults living with children reported that they had to change vacation plans due to the 2020 coronavirus pandemic, which was likely affected by Canada's lockdown and borders closing around March break. When asked if they now plan to take a vacation during 2020, 72% of parents said it was unlikely.
Nadine Badets, Vanier Institute on secondment from Statistics Canada
---
Notes
A survey by the Vanier Institute of the Family, the Association for Canadian Studies and Leger, conducted March 10–13, March 27–29, April 3–5, April 10–12, April 17–19 and April 24–26, 2020, included approximately 1,500 individuals aged 18 and older, interviewed using computer-assisted web-interviewing technology in a web-based survey. All samples except for the March 10–13 and April 24–26 samples also included booster samples of approximately 500 immigrants. Using data from the 2016 Census, results were weighted according to gender, age, mother tongue, region, education level and presence of children in the household in order to ensure a representative sample of the population. No margin of error can be associated with a non-probability sample (web panel in this case). However, for comparative purposes, a probability sample of 1,512 respondents would have a margin of error of ±2.52%, 19 times out of 20.
Public Health Agency of Canada, Coronavirus Disease 2019 (COVID-19): Epidemiology Update (accessed May 6, 2020). Link: https://bit.ly/2yXbD68.
See note 1.
Jessica Wong, "Frustrated Parents in Ontario Pivot from Official Distance-Learning Program Amid COVID-19," CBC News (April 30, 2020). Link: https://bit.ly/3aTOMFR.
CBC Kids News, When Will Your School Reopen? Check Out This Map (April 29, 2020). Link: https://bit.ly/2KMhcGW.
Statistics Canada, "Labour Force Survey, March 2020," The Daily (April 9, 2020). Link: https://bit.ly/2YABzPR.
Jennifer Kaddatz, "Families Struggle to Cope with Financial Impacts of the COVID-19 Pandemic," Vanier Institute of the Family (April 9, 2020).