May 15 is International Day of Families 2022, which is focused on families and urbanization.
May 10, 2022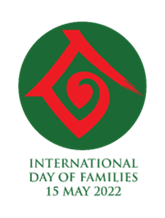 On May 15 every year, International Day of Families provides an opportunity to recognize and celebrate the role families play in the lives of individuals, communities, and societies around the world.
Families are diverse, complex, and perpetually evolving as people adapt and react to ever-changing contexts and trends. In recent years, the United Nations Department of Economic and Social Affairs (UNDESA), which leads International Day of Families observances, has focused on key "megatrends" that affect families and family life around the world: demographic change, international migration and urbanization, climate change, and technological change.
This year's theme is families and urbanization. Census data show that nearly three-quarters (74%) of Canadians lived in large urban centres in 2021, continuing a long-term trend of urban growth.1 An evidence-based understanding of families and family life in Canada's cities is important for the work of urban planners and elected officials, who need to ensure that needs for housing, financial stability, child care, health care, and green spaces are met with sustainable and family-friendly policies and programs.
Understanding how family and urbanization trends intersect and interact is also essential to achieving many of the Sustainable Development Goals related to family wellbeing, such as ending poverty and hunger, ensuring health, wellbeing, and quality education, promoting inclusive and sustainable economic growth, and more. These goals are a part of the 2030 Agenda for Sustainable Development, a framework for action that includes 17 goals related to social, economic, and environmental aspects of sustainable development, which Canada adopted in 2015.
Families and urbanization will be the focus of a virtual event hosted by UNDESA on Friday, May 13, 2022 from 10 a.m. to 11:15 a.m. ET. This event will include a panel discussion with presentations from academics, civil society, and urban authorities. A background paper by Dr. Bahira Sherif Trask (PhD), Migration, Urbanization, and the Family Dimension, will also be released. Dr. Trask will be delivering a keynote address.
The event schedule, program, speaker bios, and more information can be found at the UNDESA website.
---
Note
Statistics Canada. (2022). Canada's large urban centres continue to grow and spread. https://www150.statcan.gc.ca/n1/daily-quotidien/220209/dq220209b-eng.htm