Findings from a survey on the experiences and talents of employed caregivers
January 23, 2023
Jacquie Eales, Jon Lai, and Janet Fast, PhD
Employers are struggling to recruit and retain talent in Canada's tight labour market. Part of their challenge stems from the facts that one in four Canadians of employment age (19–70 years old) are also caregivers and that most employed caregivers work full-time.1 Many employers are not aware of the challenges their caregiver employees face, which are known to affect wellbeing. When the juggling act of work and care becomes unmanageable, research has shown it can lead to absenteeism, presenteeism, and turnover that reduce organizational productivity and profitability.2
In the spring of 2021, researchers at Research on Aging, Policies and Practice (RAPP) at University of Alberta partnered with Caregivers Alberta and MatchWork to investigate the workplace conditions that support the employment of caregivers. A survey funded by AGE-WELL was conducted to inform the continued development of MatchWork's technology platform, an online employment services toolkit for non-profits developed to help connect their job-seeking clients with meaningful jobs.3
Data collected from April 1 to September 15, 2021 through an online crowdsourced survey provided insights into the lived experiences of 114 employed family caregivers. Most participants (85%) were aged 45 and younger, had at least some post-secondary education, and rated their caregiving responsibilities as moderately challenging (5 or above on a 10-point scale, where 1 = "My caregiving is not at all challenging right now" and 10 = "My caregiving is extremely challenging right now"). Slightly more women (58%) than men (42%) participated.
Since this survey was small and crowdsourced, the results cannot be assumed to represent the true population demographics; it does nonetheless provide several key insights into the experiences of employed caregivers and the marketable skills they develop through their caregiving journeys.
1. At least half were satisfied with their current jobs
Overall, just over half of survey participants said they were satisfied with their current jobs/roles (59% of women and 54% of men), while more than two in five were dissatisfied (41% of women and 46% of men). Those providing care to two or more people tended to be more dissatisfied with their current role than those providing care to one person.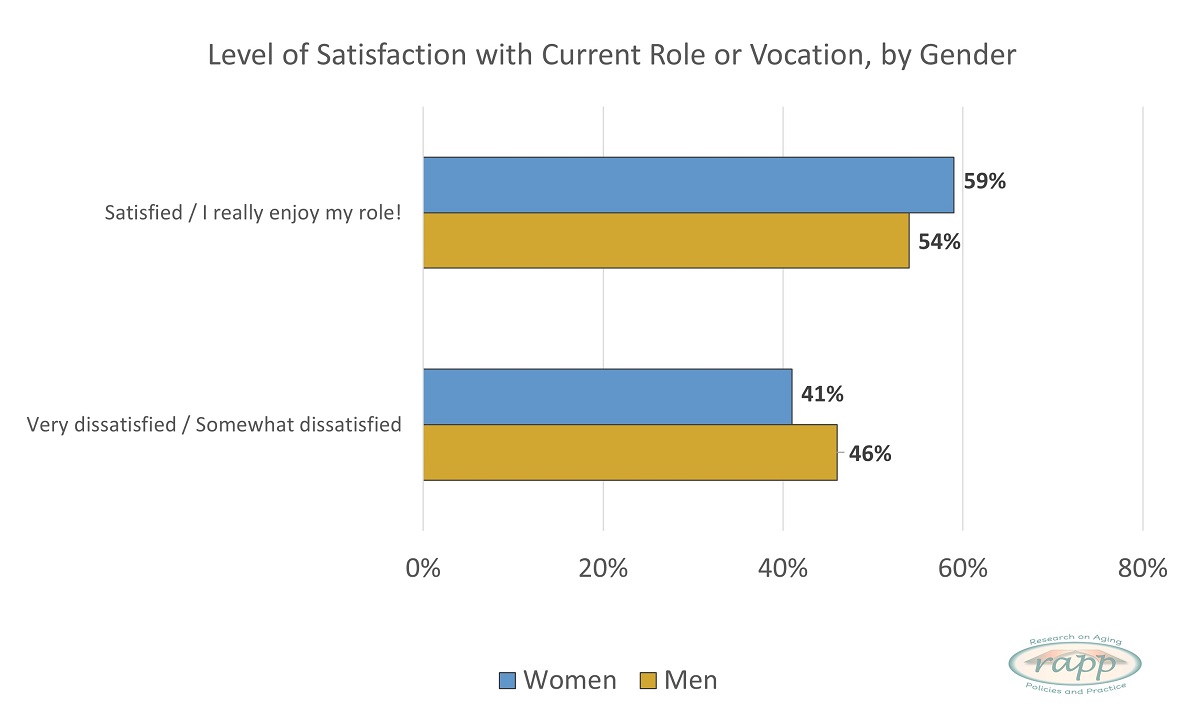 2. Most were looking for new work
As seen in the chart below, the most commonly cited benefits of paid work were income security, having a sense of meaning or identity outside of caregiving, and social interactions with others. Despite this, most surveyed women (75%) and men (88%) said they were looking for new work. The top four cited reasons were a need for more money, a better lifestyle fit, more flexibility, and/or because of family responsibilities.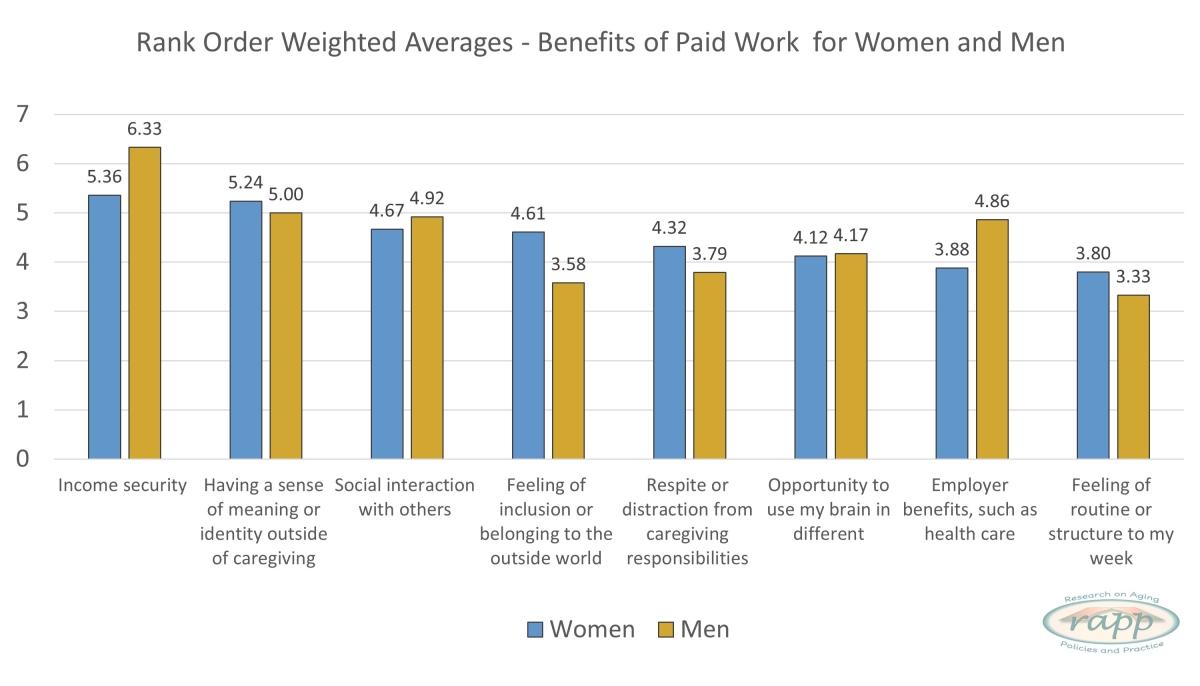 3. Two-thirds of caregivers reported experiencing discrimination
Approximately two in three caregivers said they have experienced unfair treatment or discrimination at work because of their caregiving responsibilities. More than half sometimes experienced discrimination, while it happened often or always for more than one in eight respondents.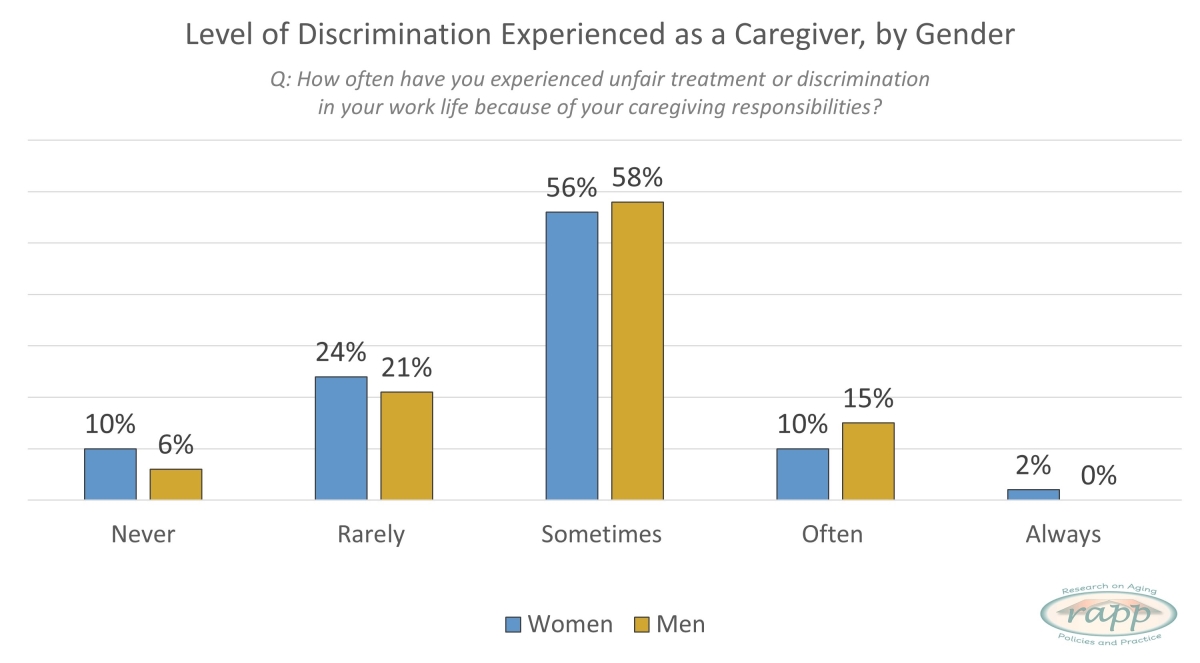 4. Marketable skills developed as a caregiver
At least half of participants identified marketable skills they had developed as a caregiver, particularly among women. These included greater empathy or concern for others (73% of women, 48% of men), problem solving or resourcefulness (67% of women, 54% of men), flexibility and adaptability in the face of delays, problems, or changes (65% of women, 33% of men), time management (59% of women, 50% of men), and patience (58% of women, 50% of men). Smaller gender differences were observed for those who reported having developed communication and conflict resolution skills, and dependability and trustworthiness (see below). These skills are necessary for building successful relationships, teams, and organizations.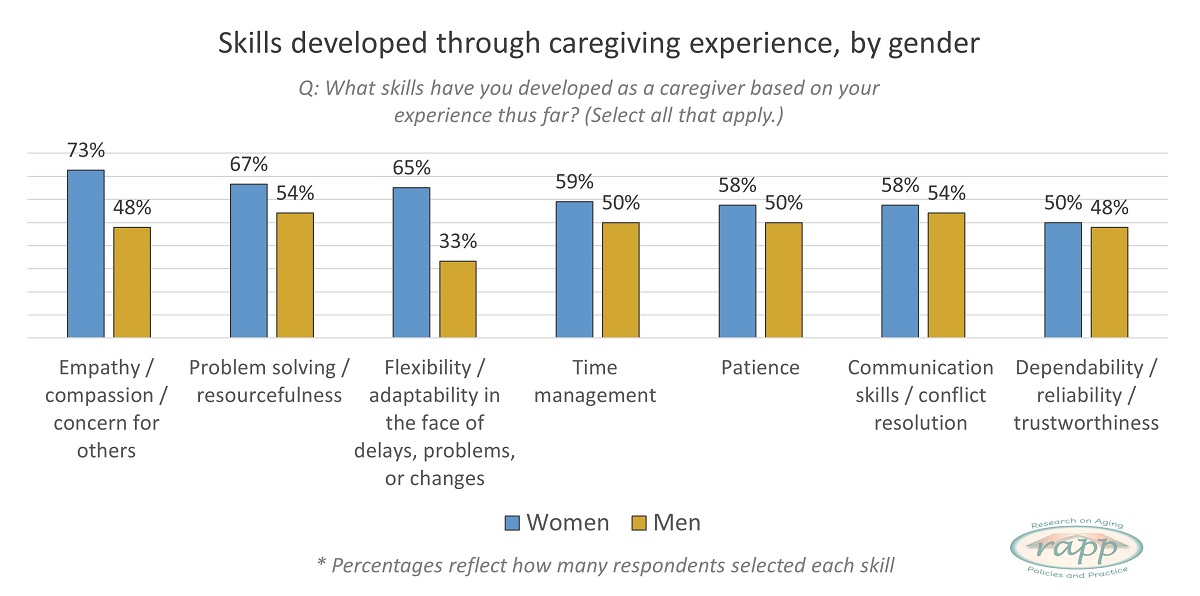 Kenya Kondo, co-founder of MatchWork noted that "one surprising aspect of the findings from this survey was the marketable skills people develop through their caregiving experiences, including empathy, problem-solving, and flexibility. This partnership has given us immense insight into the world of family caregivers. There is a tremendous opportunity to use the data collected to enable employers and human resource associations to better support their employees with caregiving responsibilities."
"The results of this survey reveal the challenges faced by family caregivers as they balance their caregiving requirements with making a meaningful contribution to their workplace and, in turn, a healthy economy," noted Darrel Gregory, Executive Director of Caregivers Alberta. "While the problem may be challenging, there are solutions. With support from organizations such as Caregivers Alberta, companies can develop innovative ways to retain skilled employees, achieve corporate objectives, and recognize the important role of family caregivers for their company and community."
Given the commonality of caregiving among working age people, this survey provides insights and ideas for employers to strengthen their workplace culture and to support the retention of employees with family care responsibilities.
Jacquie Eales is Research Manager of the RAPP research program at the University of Alberta.
Jon Lai is a graduate student in the Department of Human Ecology at the University of Alberta.
Janet Fast, PhD, is a Professor in the Department of Human Ecology at the University of Alberta, and Co-director of RAPP.
---
Notes
Research on Aging, Policies and Practice (RAPP). (2022). Who are employed caregivers in Canada? Vanier Institute of the Family. https://vanierinstitute.ca/new-infographic-on-employed-caregivers-in-canada/
Eales, J., Keating, N., Donalds, S, and Fast, J. (2015). Assessing the needs of employed caregiversand employers. University of Alberta. https://rapp.ualberta.ca/wp-content/uploads/sites/49/2018/04/Assessing-needs-of-employed-caregivers-and-employers-Final-Report_2015May25.pdf
Betkowski, B. (2021). Alberta partnership aims to help unpaid caregivers find flexible jobs. Folio. University of Alberta. https://www.ualberta.ca/folio/2021/05/alberta-partnership-aims-to-help-unpaid-caregivers-find-flexible-jobs.html